Chelsey at
I'll be seeing you...
came up with a cute and fun idea for a new blog meme where each Wednesday she'll pose the question: What's in your ______!?
I wanna play!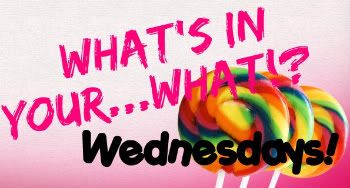 It's already Thursday here but I think I get a free pass since I am in such a far-off time zone... LOL! Making up my own rules already! But since I haven't been posting many bentos lately I have not had anything fun to do on Wednesdays. So I'm grasping at straws here! Cut me a break!
This week Chelsey asks... What's in your... Shower!?
Forgive my poor photo quality - I am wayyyy too lazy to connect my camera at the moment so iPod photos it is! Our shower is super small and I hate it - I just keep reminding myself we are outta here in six months! Hopefully the next house has a really awesome shower. :)
In the caddy:
Aveeno Stress-Relief body wash
M's Neutrogena body scrub
Aveeno Positively Radiant face wash
Earth (Japanese hair salon) strawberry-peach shampoo
and in the back Victoria's Secret Glossing shampoo and conditioner
Bar soap goes below. Hanging is a pumice stone, and beside it all is the Schick Quattro TrimStyle
On the floor:
Aveeno NOURISH+REVITALIZE shampoo and conditioner
Bath and Body Works Moonlit Path Shower cream
M's head&shoulders shampoo
I admit I am a bit of a shampoo junkie.